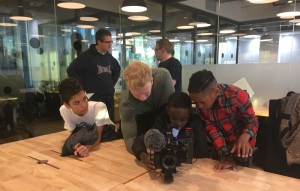 Work alongside our creative producers Kai Gama and Kadian Robinson to develop content for The Mentoring Lab and our carefully selected partners. You'll be part of our Youth Committee, a steering group that co-produce projects and ideas highlighting critical matters affecting young people.
With regular challenges, you will enhance the voice of our participants, parents and staff, champion youth mentoring and most importantly develop your character, qualities and career ambitions.
This role will open the door to a creative career.
What young people get in return:
– Letter of commendation from our CEO and Expert Advisory Panel
– Support in developing their CV and a cover letter
– Opportunity to liaise with our sponsors, supporters, and board of directors
– Training to support the voluntary role
– Reimbursement: £10 per day to cover travel and lunch expenses
How to take part
Email us at info@thementoringlab.co.uk and register your interest and receive an invite to our work experience placement information meeting.